The Baltimore Science Fiction Society exists to promote the creation and appreciation of science fiction and fantasy cultural arts. Primarily through literary art forms, but also embracing the many related graphical, musical, and theatrical creations inspired by SF. If you love science fiction and fantasy then BSFS and our projects and programs are a new home for your mind, heart, and soul.
The Latest Word - as of 5/13/2022: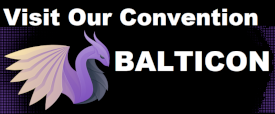 On MEMORIAL DAY WEEKEND. MAY 27-30, 2022. Join us for the Maryland Regional Science Fiction and Fantasy Convention BALTICON. Our 4 day 24 hour a day multi-track in-person convention (Balticon Virtual Convention going on at same time if you can not attend in person) Many details at the convention event website, check it out at www.balticon.org
Congratulations to our Compton Crook Award Winner for 2022: P. Djèlí Clark and 2022 Robert A. Heinlein Award Winner David Gerrold. Both will attend Balticon 56
WE ARE OPENING MORE EVENTS AT THE BSFS BUILDING FOR FULLY VACCINATED FOLKS WITH MASKS OPTIONAL AT THIS TIME. THIS MASK OPTIONAL CHANGE DOES NOT APPLY TO BALTICON.
Special Events at BSFS Building: (Online and In-Person for the Fully Vaccinated and Masks Optional During COVID Times)

Author Live Launch Party on our Zoom Channel:On June 1, 2022 7:00 PM to 8:00 PM help celebrate the virtual launch of T. C. Weber's latest book, The Survivors, a post-apocalyptic horror novella released by Solstice Publishing! The author will talk about the book, give readings, answer questions, and more. (Only use this Zoom link for this event, for other events see proper Zoom links below.) Join Zoom Meeting at https://zoom.us/j/91064908740?pwd=TENjZ25HenRNOHhtcHFaRlZnOGE3dz09
Meeting ID: 910 6490 8740 Passcode: 805110 Or Telephone: +1 301 715 8592 and use passcode.
Book Club Meeting at BSFS: OFF till After Balticon. Next held June 25, 2022 at 6:30 PM. Featured Book: Consider Phlebas by Ian M Banks, the first in his Culture series. In-person only at the BSFS Picnic NOT AT BSFS BUILDING. Not by Zoom this month as internet at park spotty.
Film Night at BSFS: Due to BSFS Building being used for Balticon preparation Movie Night in May will not be held. Return in June for more fun Movie Night items.
Tabletop Role-Playing Game Event at BSFS: Not held in May due to Balticon held. Returns June 26, 2022.
Anime Social at BSFS: Not held in May due to Balticon held and then not in June due to BSFS Picnic on June date. Returns July 23, 2022.
Alphabet Soup: Board Gaming event is on Hiatus due to virus concerns causing attendance to drop below practical levels and event does not work as online event.


See our long range events calendar here.


Borrow and bring back books from our 14,000 item free lending library at any event or meeting at the BSFS Building.

Special Events Sponsored By BSFS Outside BSFS Building:
BSFS Picnic: at Patapsco Valley State Park, Hollofield Area, Shelter # 301, 8020 Baltimore National Pike (RT 40 W) Ellicott City, MD 21043 (No rain date, we are under shelter) NOON to DUSK ( ˜ 9 PM)


Balticon Planning and BSFS Business Meetings:

These meetings this month will be in-person and teleconference by Zoom. Come on down and meet in person! You need to be completely vaccinated to attend in person at BSFS, but if you prefer a mask please wear. If you lack vaccination then pleaseattend by zoom) To attend by Zoom using your computer use link https://us06web.zoom.us/j/88616075406?pwd=YmF1aDhPZzVYR2NjdzBYdGZ0aStpZz09
Passcode: 930363
Meeting ID: 886 1607 5406 Or iPhone one-tap : US: +13017158592,,97614691479#,,,,*463191# or +19292056099,,97614691479#,,,,*463191# Or Telephone: Dial(for higher quality, dial a number based on your current location): US: +1 301 715 8592 US (Washington DC), +1 312 626 6799 US (Chicago), +1 929 205 6099 US (New York), +1 253 215 8782 US (Tacoma), +1 346 248 7799 US (Houston), +1 669 900 6833 US (San Jose)
Meeting ID: 886 1607 5406 Passcode: 930363
International numbers available: https://zoom.us/u/ac59gxWAiW


To attend in person see our directions page at https://www.bsfs.org/bsfsdrct.htm

The Baltimore Science Fiction Society business and discussion meeting will be held at 8:30pm on May 14, 2022. Drop on by in-person or on Zoom to share ideas, watch us warp traditional parliamentary rules, hang out etc., see above. After this meeting join volunteers to help bring down everything from upstairs storage and stage for Balticon in the main room.

The Balticon 56 Planning Meeting next held May 14, 2022 at 7:00 PM. Drop by in-person or on Zoom and share your ideas about how to improve this or future Balticons. (or volunteer)

Writers Circle at BSFS:

BSFS sponsors a Writing Circle 6:30-8:30pm usually meets every second and fourth Thursday of the month inside the BSFS Building, however, near term this means teleconference only by zoom 05/12/2022 and then off for Balticon and then resume on 06/09/2022. Participants prefer to stay on zoom for now. This is a SF and Fantasy focused writing group. If you write check it out. At least Seven stories work shopped at this writer's circle have been sold to professional markets in the last three years. This is a recurring meeting so any Writer's Circle meeting use: Join Zoom Meeting at https://zoom.us/j/91064908740?pwd=TENjZ25HenRNOHhtcHFaRlZnOGE3dz09
Meeting ID: 910 6490 8740 Passcode: 805110 (see Zoom phone numbers above for dial in at need)
For more info contact BSFSEvents at BSFS dot org