Bobby Gear Memorial Charity Auction at Balticon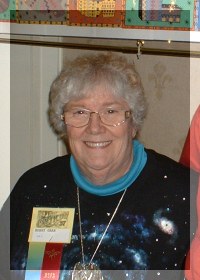 In past years BSFS sponsored a charity auction at Balticon to raise money to sponsor Reading is Fundamental program/programs at a school or schools in Maryland. In 2006 the auction was renamed the "Bobby Gear Memorial Charity Auction at Baltcon" in honor of BSFS member Bobby Gear to commemorate her years of service as a school teacher and BSFS volunteer.
Reading is Fundamental is no longer active in Maryland in a way that allows us to target funds to a school inside Maryland, but it is important to us to keep the work alive. Therefore we started the BSFS Books for Kids program.
BSFS Books for Kids will gift funds raised to the PTA of the selected school for the purchase of books ordered by students for personal recreational reading. The books will become the personal property of the students. In additon, BSFS Books for Kids collects book donations for local school libraries, as requested by their resident librarians.
Bobby Gear Memorial Charity Auction at Balticon will be raising money so that BSFS Books for Kids can provide book purchase funding for the students of Buck Lodge Middle School and depending on amount raised other schools.
Items for the auction are donated by both individuals and companies and generally have a SF or fantasy theme. Author signed copies of books, art work, games, and SF collectables are very popular donated items.
The auction at Balticon is generally held during the masquerade half-time while the judges deliberate and the audience waits to hear the winners. A second session of the auction is held on Sunday following the art auction. Items available for auction are displayed in the Art Show. To donate items for the auction throughout the year, or for other details about the auction in any given year, please contact "BooksForKids at balticon dot org".
If you would like to bring your donations for the Bobby Gear Memorial Charity Auction with you to Balticon, they can be dropped off at the Convention Operations desk at the end of the hallway on the lower level just past the Art Show.
BSFS Books for Kids is currently collecting new and used book donations for the library of Northwest High School in Baltimore City. They are in need of Romance and Poetry books, as well as less challenging books like Goosebumps, Sweet Valley High, etc. for reading competency levels from grade 3 on (ages 8 and up).
There will be several drop-off locations at Balticon for books donations for the high school - at the volunteers desk, the info desk and at Convention Operations.
Thank you for supporting youth literacy in Maryland!