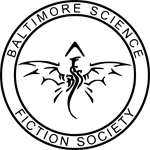 Boardgaming - GCOM/Alphabet Soup
Join us on the fourth Sunday of each month for Boardgaming at Alphabet Soup, a Games Club of Maryland event.
We play European strategy boardgames, Rail games, and any other games that interest the people attending. We start at noon on Sunday and end at 6:00 pm. Usually we order food for delivery.
New players are welcome, you do not have to be a member of either Games Club of Maryland or Baltimore Science Fiction Society. Just come in the front door, we are in the room in back.
For more information see www.gamesclubofmd.org/Locations.asp?location=2&type=GCOM
"Balticon" is a service mark of the Baltimore Science Fiction Society, Inc.
Copyright 2013. BSFS is a 501(c)3
non-profit organization.
Baltimore Science Fiction Society, Inc.
PO Box 686
Baltimore, MD 21203-0686
Phone: (410) JOE-BSFS (563-2737)
webmeister at bsfs dot org