Enter the Annual BSFS Poetry Contest!
IMPORTANT NOTICE: The contest deadline is March 1.
Entries should address the themes of science fiction/fantasy/horror/science.
1st prize: $100; 2nd prize: $75; 3rd prize: $50.
Limit: 3 poems/person, maximum 60 lines each. No entry fee.
Please no previously published submissions.
Winners will receive a cash prize, convention membership and be invited to read their winning entries at Balticon. Attendance at Balticon is not required to win.
Winning poems will be published one time in the BSFAN, the Balticon convention souvenir book. In addition, a pdf version of the winning poems as they appear in the BSFAN will be available on the Balticon Poetry Contest website. Writers retain all rights to their work. By submitting to the contest, entrants agree to these terms.
Deadline: Mailed entries must be postmarked, and e-mail entries received, by March 1. Entries that do not meet this deadline will be considered for the following year. Please include your name, address, phone & e-mail address and a brief bio with your entry.
Entries may be submitted via the link below, e-mailed to poetry at bsfs dot org, or mailed to "BSFS Poetry Contest," c/o BSFS, PO Box 686, Baltimore, MD 21203. Info: poetry at bsfs dot org.
While we would like to respond to each entrant personally, it is not always possible due to the large number of submissions we receive. Please check the Poetry Contest website periodically for updates and announcement of the winners.
Entries may also be submitted via the
BSFS Poetry Contest Submission Form
.
(and/or) Join the Poetry Workshop at the Convention!
The Balticon Poetry Workshop explores the arena of verse from inspiration and writing to small press publishing and submitting for publication. Join us immediately afterward for the annual poetry contest award winners' reading and open mic. Check the Balticon pocket program for time and location. Preregistration is not required. For more information, email poetry at bsfs dot org.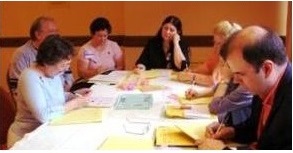 BSFS Poetry Contest Winners (Click the year to read winners)
2022
1st "The Hurricane" by Sharon Rockman, Melbourne Victoria, Australia
2nd "The Unborn and the Dead" by Lorraine Schein, Sunnyside NY, USA
3rd "Creation" by Rachel Basha Friedman, North Hollywood CA, USA
Special Young Writer's Award "Miss Moore's Wallpaper" by Allison Xu, Rockville MD, USA
Honorable Mention "Heel to Toe" by Marisca Pichette, Deerfield MA, USA
Honorable Mention "Columbine" by Vanessa Jae, Germany
2021
1st "It is a Father's Tale" by Eric Nicholson
2nd "Memories of a Mermaid" by Natascha Graham
3rd "Cygnus" by Ryan E. Holman
Honorable Mention "Milicent Patrick Speaks of Monsters" by Laura Shovan
Honorable Mention "The Catty Hours" by Adele Gardner
2020
1st "Wake" by Liz Hufford
2nd "Deeps of Time and Innumerable Stars" by Preston Stone
3rd "Light Voyager" by Adele Gardner
Special Young Writers Award "Lilith" by Quinn Brown
Honorable Mention "Valkyrie Before Rain" by Megan M. Yu
Honorable Mention "Good Night" by John Grey
2019
"Better Living Through Witchcraft" by Oliver Smith
"Loving a Spaceman" by R. Jean Bell
"The First Five Links of Marley?s Chain" by James Edward O?Brien
"Homecoming" by Grace Sonnabend
"A Cupful of Stars" by Elena Sichrovsky
2018
"First Message" by Tim J . Myers
"The Sand Witch" by Colleen Anderson
"Laika, Muttnik " by Marge Simon
"The Legend of the Bubaki" by Pamela R . Anderson
"The Elegy I Should I Have Written" by Me'Shelle Fae
2017
"Freckles" by Kaitlyn Graham
"Date Night With the Astronomer" by Lev Mirov
"Song of a Changeling" by Adele Gardner
"Gorgoncology" by Jennifer Moore
"Man on a Spaceship" by Cathy Bryant
2016
"Quitting Spell" by Shannon C. Ward
"Putting Out the Stars" by Cathy Bryant
"Pearl" by Ryan E. Holman
"Calling All Heroes" by Kaitlyn Graham
"Scales of Glory" by A. L. Kaplan
"Comatose" by Mara Buck
2015
"Songs of the Starcleaners" by Cathy Bryant
"This One's for the History Books" by Catherine Poslusny
"Full Moon" by Adam Phillips
"Midnight Dance" by A. L. Kaplan, Honorable Mention
"The Dog Birds" by Marge Simon, Honorable Mention
2014
"The Detour" by Darrell Lindsey
"Ode to Mars" by Janet Butler
"Ritual at Water's Edge" by Jennifer Ruth Jackson
"Postcards from the Moon" by Kaitlyn Graham, Special Young Writers Poetry Award
2013
"The Music of the Stars" by Bruce Boston
"Drenched in Light" by Kadie Bennis
"The Lottery, Revisited" by Marge Simon
2012
"Night Flight to Venus" by Jennifer Moore
"Futurity's Shoelaces" by Marge Simon
"Longing" by AC Leming
2011
"Stardust" by Kat Kohler
"Talking to Owl" by Caitlin Walsh
"The Human Guest" by Marge Simon
"The Night World" by Laura Johnson
2010
"The Veracity of Imagination" by Bruce Boston
"Page-cats" by P.S. Cottier
"A Dragon in Winter" by Judith Behar
2009
"This Is What You Must Do" by Kirsty Logan
"Aurora Aland" by Tabitha Benedict
"Orbit" by Pat Tompkins
2008
"Wind Up" by Patricia Budd
"I Love You for Your Brains, Not Your Looks" (Zombie Love Song) by Diana Chien
"Sekhmet Upon the Horizon" by Christa A. Bergerson